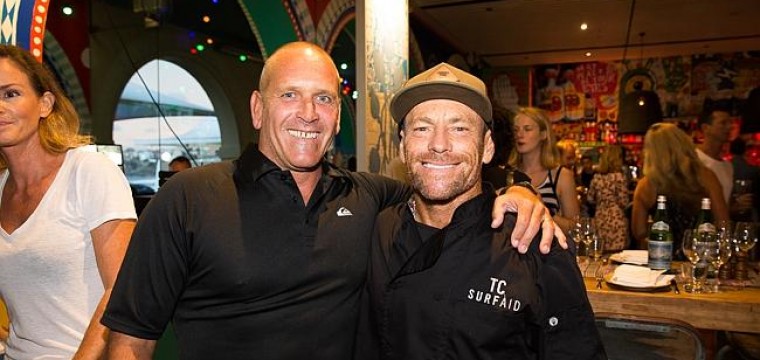 Top chefs raise $44k for Surfaid Bondi charity event
FORMER ASP world surfing champs Martin "Pottz" Potter and Tom Carroll teamed up with Australia's top chefs for the first Sydney Surfing Chefs for SurfAid cocktail party and raised $44,000 for the charity.
More than 300 guests descended on The Bucket List in Bondi and enjoyed a night of excellent food and fine wine.
Guests included surfing and sporting elite, Martin Potter, Tom Carroll and Torah Bright, Andrew Judge and Dr Dave Jenkins founder of SurfAid.
"We've been talking to SurfAid about an event here for a couple of years and all the stars aligned," said organiser, The Bucket List's Tom Walton. The surfing chefs are coming from as far as Perth for the event which will raise funds for the humanitarian aid organisation.
Along with Guy Turland from Bondi Harvest will be Russell Blaikie of Must Wine Bar Perth and Tony Howell, Aravina Estate, Margaret River, Ben O'Donoghue from Billy Kart in Brisbane, along with locals Ian Oakes from Drake, Monty Koludrovic Icebergs, Peter Doyle from est., Simon Zalloua from Sefa Kitchen, Zac Pauling The Corner House and Craig Ferrier from Cranky Fins, Palm Beach.
Former pro surfer and Bondi Rescue star Rod "Kerrbox" Kerr swapped his wetsuit for a chef's jacket.
"There are a few veterans who enjoy the water and their food. It's a great bunch of guys," Walton said. "Besides helping a great cause a lot of chefs get stuck in your restaurant all day so it's nice to network a bit, it's a bit of a let your hair down type of event."
See surfaid.org